This page is designed to help you navigate your programs when you run in to trouble – if you cannot find a solution below, please complete the contact form below and we'll help you resolve your issue as quickly as possible.
Where do I find my content?
All of your content is available from your 'My Account' page.
---
I can't access my new content
Please check the email address you purchased your new program with – is it the same email address you logged in with?
Try logging out of InsideOutStyleMember, then logging back in again. This should refresh your browser and show you your new content.
---
How do I change my personal details?
You can update your contact details via the 'Update Profile' page.
---
How do I change my password?
Click 'My Account' in the top (purple) menu.
Go to 'Change Password'.
Type your new password into the field twice and press 'Change Password'.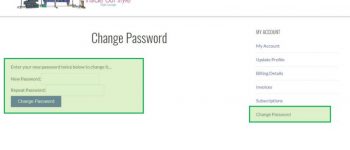 ---
How do I change my email address?
As your username is your email address, you will be unable to do this yourself.
Please email kate@insideoutstyleblog.com with your current email address, and the new email address you wish to change it to.
---
Do I have to be in the Facebook Group?
No, you do not need to be in any of the  Facebook groups associated to our Programs. You are given all the tools you need to successfully complete the program with or without joining a Facebook group.
---
How do I join one of the Facebook Group?
Simply visit the Facebook group applicable to you (you can find a link to them via link in the top of your sidebar of any of your program pages), and request to be added to the group.
Please note:
If your Facebook name is different to the name you have joined Inside Out Style Member with, please email imogen@insideoutstyleblog.com.au – so she knows to accept your request to join the Facebook group.
You must also be using a Facebook account under your name (ie., you will not be permitted into the group using your Partner, Husband, or other account).
If you've tried the above steps, or if you are having any other issues, please get in touch with us to let us know, we'll help sort it out with you as quickly as possible!