Email Imogen a photo of yourself – close up, good natural even lighting – just face with some hair.  You need to be able to distinguish your eye colour clearly.
How to take your photos
Indoors ideally (never outdoors on a sunny day)
In a bright room
Facing a window without direct sunlight (north facing in Northern Hemisphere, south facing in the Southern Hemisphere) – you will want to get really close to the window and hold your camera at the window in front of you!
Close up – ideally wear a white top so that colour isn't being reflected onto your face.
Without makeup (ignore that I have some makeup on in the photos below)
No glasses
Hold the camera at face height rather than looking down at it or up at it
Hint…a bathroom with white tiles is great, or against white sheer curtains works well too!
Alternatively – try inside your car in the front seats as long as you don't have tinted windows!
The quality of your photos is really important – take your time to get great and accurate photos of your skin/hair/eyes so that I can make an accurate analysis.  If your photos are of poor quality or do not represent how your colouring looks in reality, do not send them as you will not get an accurate result.
Please also send a photo of a close up of your eyes so I can gauge their colour – the colour needs to be as accurate as possible!
Before taking your photos, please see the following images and watch the following video.
Email photos to: [email protected]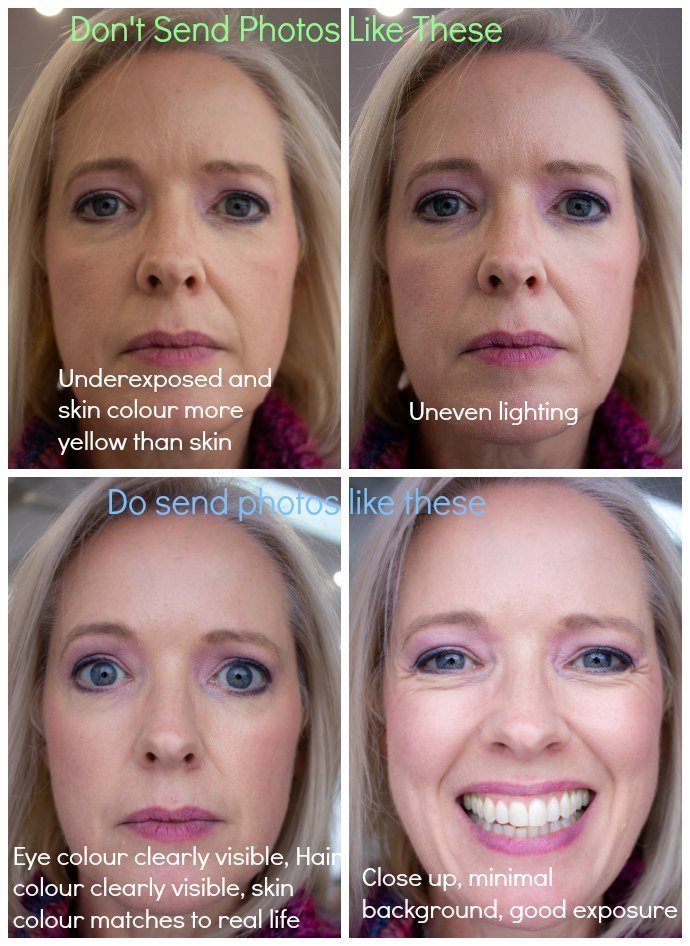 Here is a short video to show you just how much lighting makes a difference – please watch it before taking your photos!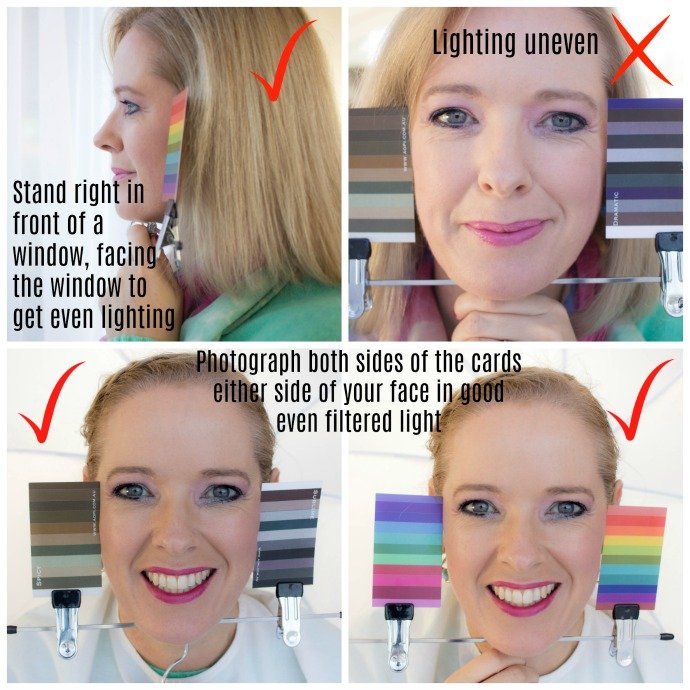 In this short video I discuss how I make decisions about colour palettes and what I'm looking for when doing the colour analysis.
Once you've photographed yourself  email photos to me here I will then let you know what I'm seeing then I'll send you some mini-cards which are specific to compare to your colouring.